After touring the West Coast with people who carried 2 pounds of spices, five pound bags of rice, beans, and lentils, camp chairs, cats, laptops, skateboards, and 12 packs of PBR, I realized that there's no standard gear list which works for everyone. Nevertheless, I've always prioritized traveling light in order to make the hills a little less painful and have more energy to explore camp once I get there. Here is a list of 10 things I left at home in order to cut weight while cycling the Pacific Coast Bicycle Route.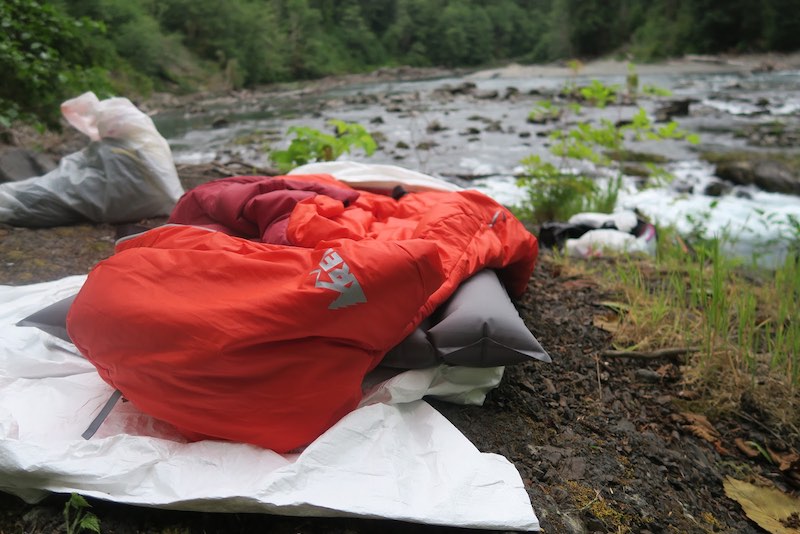 Tent
With the minimal bugs and mild climate of the west coast, I slept comfortably under the stars without a tent every night of my tour. My sleeping setup consisted of a 7' x 4' tyvek ground sheet, an REI Stratus sleeping pad, and the REI Ambient 36 sleeping bag. I brought an emergency tarp with me in case it rained but I was lucky enough to never have to use it after leaving Washington. Dew was only a problem twice in California because of the heavy morning fog, but I stayed dry by anticipating the fog and sleeping under picnic tables.
Town Clothes
Wearing padded spandex and a cycling jersey while shopping for groceries or stopping for a drink at a bar seems strange at first but you quickly grow used to it. Your clothes will set you apart from the crowd in a good way, leading to many conversations with curious locals and on several occasions, free drinks. Plus, your pack will weigh less since you end up cycling in everything you own apart from a fleece, jacket, and leggings.
Stove, pots, and pans
Instead of cooking or eating out at restaurants, I was able to cut weight and save money by eating grocery food which didn't require a stove. Since I was on a tight budget, my diet mainly consisted of cold ramen (re-hydrates in 20 minutes in tupperware), tortillas, cheese, bologna, nuts, protein bars, peanut butter, and cold chef boyardee. Other cyclists at camp were always willing to lend a stove or even cook me dinner.
More than one spare tube
If you ever get a flat, use your spare tube. If you get another flat before buying a new tube at a bike shop, patch your punctured tube. In a perfect world I would recommend not carrying spare tubes at all and only using tire patches, but since faulty valves are often impossible to fix and can leave you stranded between towns and delay your trip I do end up carrying 1 extra tube.
An extra day's worth of food
There is no shortage of grocery stores, fast food chains, and restaurants on the West Coast. On average, I was passing at least three grocery stores where I could resupply each day which made it pointless to carry more food than immediately necessary. I also tried to do most of my grocery shopping in the towns closest to where I was staying for the night to not have to carry the weight of dinner and the next day's breakfast all ride.
Clip in shoes
Some people love them, but I personally find them unnecessary for the type of riding you encounter on the west coast. I used my pair of beat up tennis shoes for everything from cycling to relaxing on the beach in order to not pack another pair. Another option is to get a comfortable set of bike shoes where the cleat is recessed into the sole and use that as your only pair of shoes for the trip.
Long pants
Instead of bringing long pants which you would only ever use in camp, I packed a pair of leggings which I wore under my shorts whenever the weather turned cold.
U-lock
During the entire tour, I was never out of sight of my bike for more than 15 minutes at a time in cities, and parks felt safe with just a cable lock. No one I met along the route carried a U-lock with them and unless you plan on leaving your bike locked outside in a city big overnight, you have nothing to worry about.
Water bladder
Having three 1L water bottles with me was always enough for an 80 mile day in the mild coastal climate. To cut down on weight even farther, you can easily bike with just two liters of water on you and fill up at gas stations and campgrounds as you go.
Water filter
I started the tour with a Lifestraw but ended up sending it home after passing gas stations and restaurants every few hours if not every few miles. Even if there were no services for up to 30 miles at a time (I can only think of two such instances along the entire coast), the route passes houses where you can always ask for water.
Some of these weight saving strategies may seem excessive and what you pack definitely depends on the goal of your tour. Many of the tips listed above are only applicable for touring in places as developed as the West Coast so if you're planning on biking somewhere more remote, definitely think twice about water filtration, food, and repair supplies. Feel free to send me an email with any questions at oliver@uphilldesigns.com, and leave a comment below with any strategies you use to cut weight.